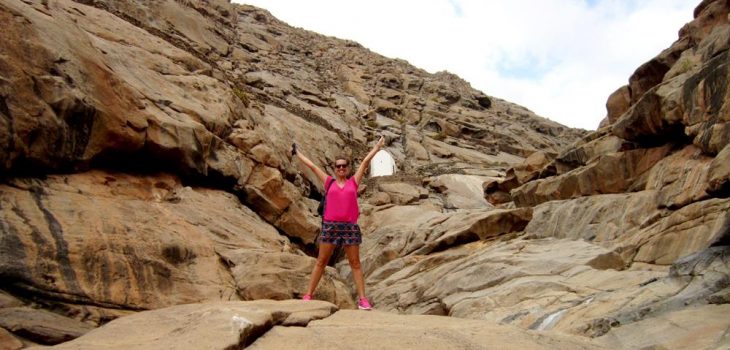 In 2006 I made the move from the UK to Fuerteventura, giving up a great career, a house and leaving behind a wonderful circle of family and friends. Thirteen years and 2 kids later, I´m still here, happy, healthy and living my dream!
Moving away from everything that you know doesn´t come easy and it´s been a journey filled with ups and downs but the question is: If I went back to 2006 would I do it all again?
The answer is 110% YES! Don´t get me wrong, it can be hard living on a small island, particulary as a single Mum without my family but the pros outway the cons. If I have learned one thing it´s that learning the language of where you live is an absolute MUST.
I had an understanding of Spanish before I came to live here thanks to a one year college course and a year of private lessons with a fabulous teacher. However, upon arrival I soon realised that what they actually spoke here in Fuerteventura wasn´t Spanish as I knew it but a coarser sounding version which at times was so unclear it was impossible to seperate one word from another. Thanks to the patience of a wonderful Spanish lady who to this day is one of my bestest friends and some hard work I started to understand the wonderful Majorero accent of the Fuerteventurian people.
I realised that if I wanted to speak Spanish, I needed to put the effort in, it wasn´t going to come overnight. How fast you learn depends on how hard you work. I studied every single night, with a small baby and a husband who worked 7 days a week. I went to the Spanish neighbours for coffee, I did birthday parties, I chatted with the lady at the bus stop. It was hard and frustrating but it was absolutely worth it!
Here, a lot of Brits have the attitude "well everyone speaks English anyway" which I sort of understand, on a tourist island they probably do, however, from the moment that I leave my house until I return, I don´t speak a WORD of English, unless I´m having coffee with an English friend of course!
These are the things that you can do to surround yourself with Spanish:
Write your shopping list in Spanish
Read the menu in Spanish ONLY from day 1 (give me an English menu and I´m lost)
Look around, read the billboards and road signs
Enter a shop and say "Hola, buenos días"
Learn how to say your name and nationality in Spanish
Learn how to say please, thank you, I would like, goodbye
If you want to learm Spanish, then go for it. Is it hard, yes. Is it worth it, absolutely!
Learning Spanish: Where to start?
I´m not a huge fan of learning Spanish via a book because I think that most of them go down the wrong pathway. By this I mean, starting with conjugating verbs, heavy grammar etc. However, I find that the series of Dorothy Richmond books are very useful, as they contain a huge amount of examples and translations for each subject making it easier to progress and the vocabulary is amazing.
Apps can be good too and ones like Duolingo have become very popular and I understand that they can be particuarly helpful with vocabulary but possibly not so much with the grammar.
Google translate is an amazing invention especially with the little pull down option of further translations available on certain words. However it is what is is, a machine and I find it really easy to spot a google translated sentence over a student written sentence in my classes. Spanish contains a lot of feeling and heart which you have to put in yourself.
You tube again is an extremely useful tool to pick up Spanish. There are many, many videos available, some are good, some are bad. There are slide show videos, animated videos, native Spanish speakers etc.
My advice would be to decide what you actually want or need to learn Spanish for. Do you need it for work? Do you have children in school? Do you want to chit chat with the neighbours? Vocabulary is the easiest thing to learn. There are pages and pages of vocab available for subjects if you look online, it´s just a case of studying. For example, if you write "vocabulary for school in Spanish" in Google it brings up numerous lists which contain all your words for pens, pencils, teacher etc in Spanish.
My advice would be to learn first and foremost about yourself. If you are going to learn anything it should be these basic things:
How to greet a person
How to introduce yourself (name, nationality etc)
About your family and things that you have
What you like and dislike
How to ask for what you want
Click here to see more of  my Top Tips for learning Spanish.
Now off you go! Happy learning!
If this is all you do then good for you! It´s a huge start and these few things will make a huge difference in the attitude of the person that you are talking to.