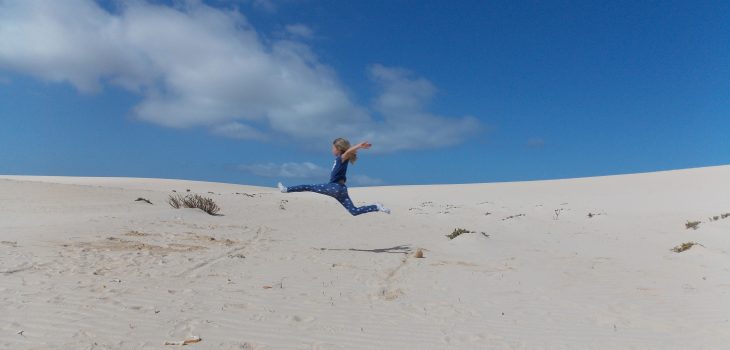 Las Dunas de Corralejo are situated in El Parque Natural de Corralejo in the north of the Island of Fuerteventura. Located south-east in the county of La Oliva, they are classed as one, if not the most popular tourist attraction on the island. With a size of 2.600 hectares, it makes them the largest sand dunes in the Canary Islands and attracts thousands of tourists per year.
Over the years, the sand dunes have been the focus of many debates, the two most common ones being:
The construction of 2 hotels in the protected area

The origin of the sand 
The construction of 2 hotels in the sand dunes in 1975 has caused much controversy over the years mainly due to the fact that they stand on protected land. In 1982, along with a small island off the coast of Fuerteventura, the dunes were classified as protected natural park (receiving their independent title in 1994). Many claim that the hotels should be demolished however others argue that many jobs would be lost if that were to happen and they prove to be a popular choice for holidaymakers who want to enjoy the golden sandy beaches and clear blue seas. The sand dunes are home to many protected plant species and many different types of animal including reptiles and birds.
For many years the origin of the sand of the sand dunes has been a point of discussion. I, like many, heard that the sand blew over from the Sahara desert but this has been proved as untrue. The sand is actually made up from organic material, specifically around 90%  ground mollusk shells and other marine organisms.
The sand dunes are a popular part of most guided tours and visitors come from all over the island to see them. In November they are host to the yearly kite festival where people come from all over the world to fly their kites, it's a spectacular sight. They have also been the chosen destination for many adverts and feature films including Wonder Woman, where they closed the road running through the dunes for a period of time causing much annoyance to locals and holiday makers alike. 
The dunes are next to fabulous clear blue seas which are hugely popular for watersports including kitesurfing, surfing and scuba diving. Many surf schools use these beaches with their practicing students. 
The road that runs through the dunes can be seen as part of a video made by my friend "JP in Fuerteventura"